HydroSpike® Combo Value Watering Kit is a great way to try three watering products in one purchase. Combo kit includes:
HydroSpike® Original HS-300 Spikes 3-pack
HydroSpike® Dripper 3-pack
Receive 1 FREE Super Handy Sprayer Kit
Automatic Watering System + Sprayer
HydroSpike® HS-300 Spikes automatically water your plants (both plant therapy and nanny) with just-in-time watering principle based on capillary action. Easy vacation plant watering for indoor potted plants, plus water soluble fertilizer delivery system and plant food feeder. Deep root watering and hydration.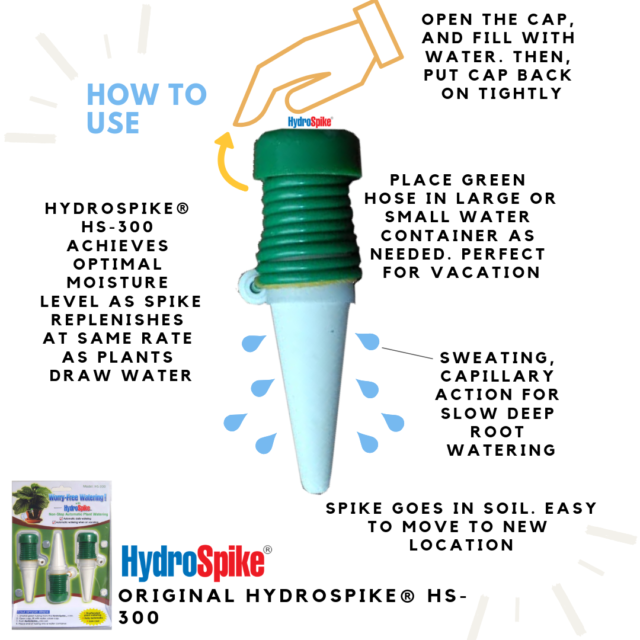 Individually Adjusted Dripper Settings to Save Water
Each HydroSpike Dripper may form up to 8″-12″ wide wet area. Adjustable dial emitter settings on drippers stake allow you to tailor water drip drop flow by plant, zone area, hydration needs or soil condition. Save water and from over-watering. Flexible drip zone changes can be made by moving dripper stakes. Cut and reuse a plastic bottle for HydroSpike Dripper.
Easy to Set up and Move Around
Flexible irrigation for healthy plants. No need for attachment or permanent water hose line to limit where you water. Go on vacation, want to move water to plant pot instead of flower bed? Easily move so long as tubing will reach. Use for pots, garden patio, bird garden, household plants, vegetable gardens, raised or ground level flower beds, herbs and plants. Easier to use plus relocate than globes, bulbs, orbs, vase or jugs.
Best Portable Sprayer Gun Nozzle
HydroSpike Super Handy Sprayer Kit is easy to use, small, light and portable. Spray up to 18 oz per minute, for plant watering range 0-15 feet! Pump handle pistol for high pressure continual spraying and as cleaner. Water spray gun builds pressure for a strong spray given its size. The nozzle head fits many plastic bottles, fill with liquid, water. A spray wand or gun for indoor outdoor misting, cleaning, or handy hydro jet stream alternative.