HydroSpike® Daisy Hub TM Dripline System Starter Kit TM is a robust plant watering system that allows for watering any plant in your garden.  Perfect plant watering zones for clusters of plants with HydroSpike® Daisy Hub and provides extra HydroSpike® Dripper Holder Stakes for more firm grip and increased visibility of each Dripper Head. 
All these HydroSpike® parts and accessories are also sold separately for easy expansion or replacement. Daisy Hub is a HydroSpike® designed product that provides 8 connector spots for tubing connection to HydroSpike® Dripper Heads.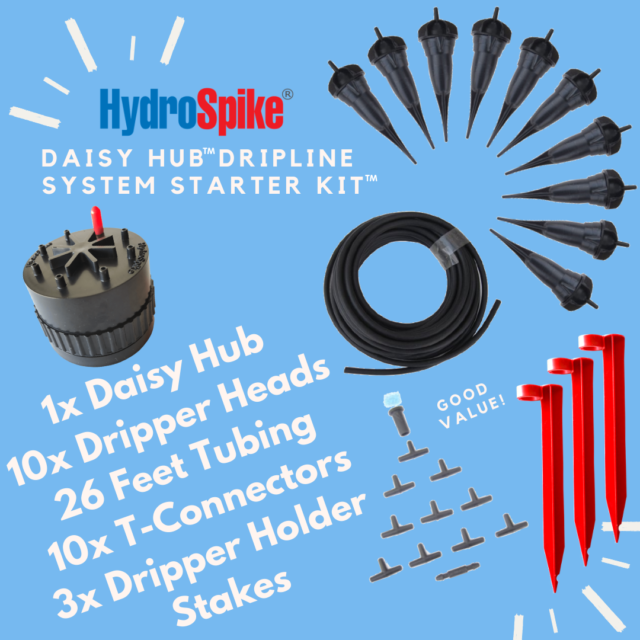 This HydroSpike® Daisy Hub Dripline System Starter Kit comes with the following products:
1 Daisy Hub
10 Dripper Heads (adjustable)
1 Tubing Roll of 26 foot long UV-resist flexible 1/4″ OD tube
10 T-connectors, 1 straight connector, 1 rubber insert (for straight connector & filter) and filter
3 Dripper Holder Stakes
Individually adjusted dripper settings to save water
Adjustable dial emitter settings on drippers stake allow you to tailor water drip drop flow by plant, zone area, hydration needs or soil condition. Save water and from over-watering. Flexible drip zone changes can be made by moving dripper stakes. Daisy Hub allows for targeted watering of clusters or groups of plants.
Easy to setup and disassemble or move around
Flexible in where your plants need most water. No need to for an attachment or permanent water hose line to limit where you water. If you go on vacation and need water to the plant pot instead of flower bed, easily move so long as tubing will reach. Can be used for outdoor and indoor pots, household plants, vegetable gardens, raised or ground level flower beds, herbs and plants.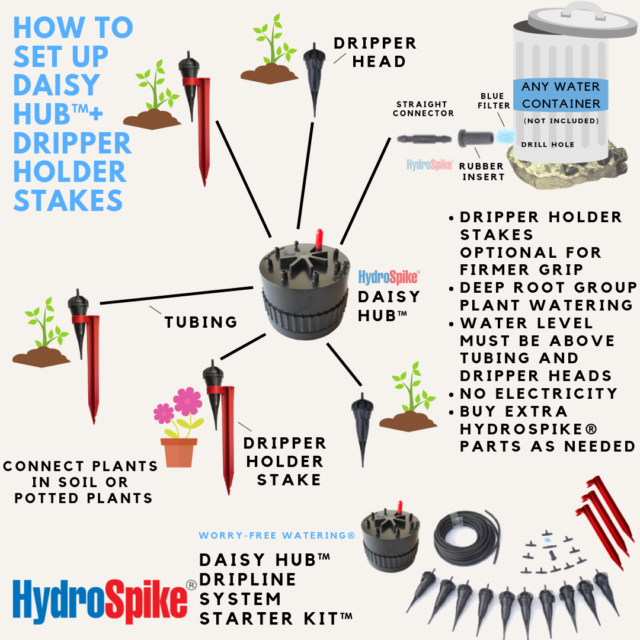 Handy for watering clusters of plants
The Daisy Hub TM is very useful and handy to connect HydroSpike® Dripper Heads in closely planted situations. Excellent for outdoor gardens, vegetable gardens, tomato plants, etc. Designed with a star type line configuration, this hub can add or move Dripper Heads easily to any new location without disturbing or modifying your existing HydroSpike® Dripline System. The specially designed HydroSpike® Daisy Hub does not need any special adapter.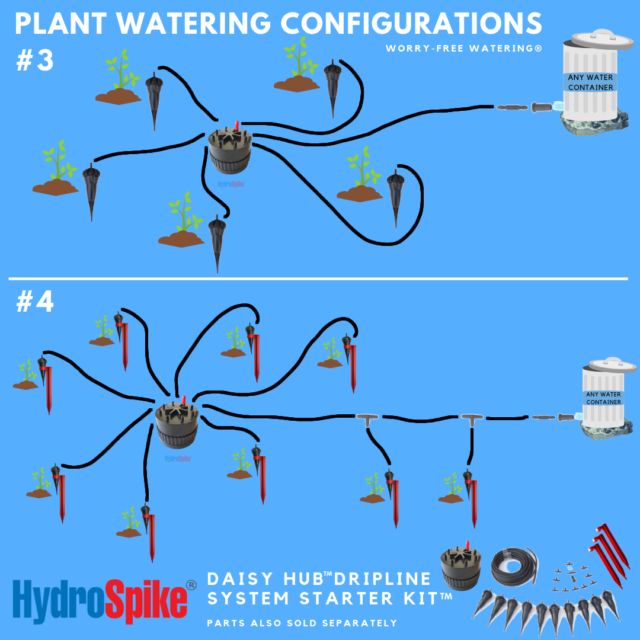 All parts can be reused repeatedly with care. HydroSpike® products are also sold separately for expansion or replacement. Authentic HydroSpike® product comes with the HydroSpike® logo, design and packaging